CM-PLL: WARP v3 Clock Module with on-board PLL and VCXO
The CM-PLL is a clock module for WARP v3 which provides a high-quality clock to the WARP v3 clock buffers whose frequency is locked to an local or external reference. The CM-PLL module integrates a PLL, low-jitter VCXO and reference clock multiplexer.
Key Features
Analog Devices AD9511 PLL
Texas Instruments LMK03004 clock mux
80MHz low-jitter voltage-controlled oscillator (VCXO)
6-position DIP switch for run-time configuration
Reference clock input from:

MMCX jack
Board-to-board header
WARP v3 TCXO
Clock and FPGA I/O
The CM-PLL module has two 10-pin connectors. Each connector allocates 4 pins to FPGA I/O and 1 pin for the PLL reference clock. One connector has a reference clock input, one has an output driven by a buffered copy of the reference clock. These connectors enable synchronizing multiple WARP v3 kits in a daisy-chain configuration. There are various options for the board-to-board cables. Refer to the CM-PLL User Guide for details.
The photo below illustrates two WARP v3 kits equipped with CM-PLL modules in a daisy-chain configuration. The single cable connection synchronizes the WARP v3 clocks and routes 4 FPGA signals for shared triggering of the FPGA designs.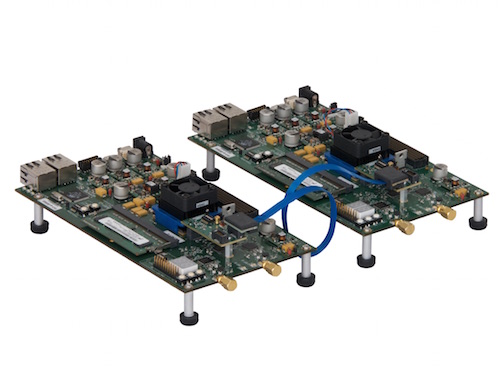 Additional Documentation